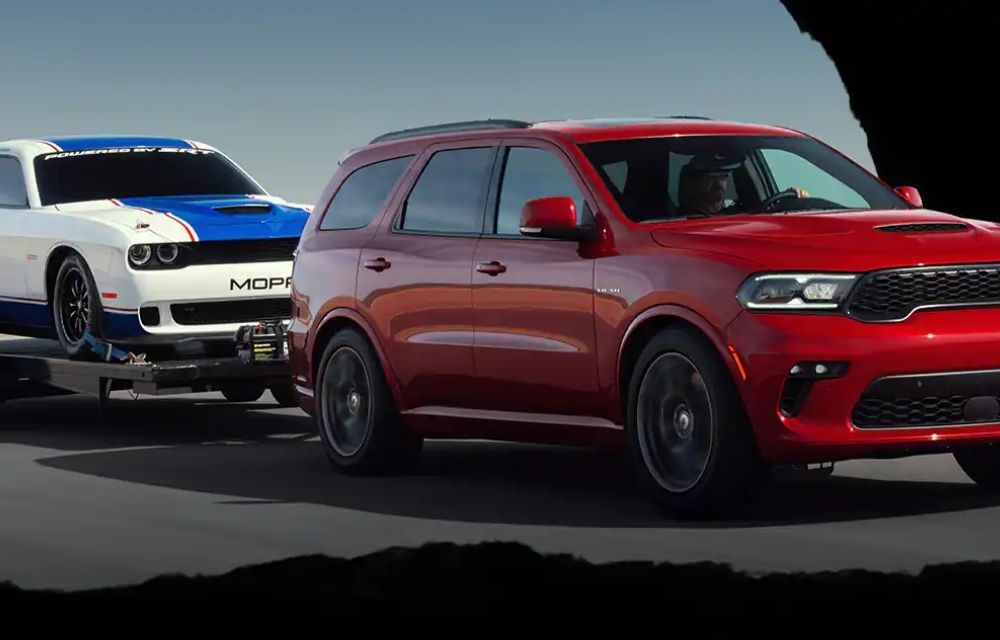 Check Out the 2022 Dodge Durango and Durango SRT
In the world of mid-sized SUVs, the Dodge Durango is an enigma. It has a spacious interior that can seat up to seven passengers and it also features a spacious rear cargo area. However, under the hood, you will find a powerful engine that delivers impressive horsepower and heart-stopping acceleration rates. If you want a vehicle that has even more of a racing feel, you will want to check out the Durango SRT. Both the Durango and Durango SRT have added several innovative features to the vehicle. To better help you decide which model would be right for you, here is a look at the 2022 Dodge Durango and the 2022 Dodge Durango SRT.
Exterior Design
The Durango has a sporty, yet elegant, exterior design. The body is outlined in muscular curves that help to give it a powerful and aggressive look. In the front, your attention is immediately brought to the slender and sporty grille as well as the bright LED projector headlamps and LED daytime running lamps.

The SRT adds another level of sporty flair to the exterior by adding a vented hood and two racing stripes that stretch from the front bumper to the rear bumper. The SRT also pays homage to the Charger Widebody by adding a rear spoiler and giving the vehicle a more athletic look.
Interior Comfort
The spacious interior can seat up to seven passengers and also provides a large rear cargo area. If you need a little extra cargo room, the second and third-row seats can fold down to accommodate for more interior cargo. With over 50 different seat configurations, you can easily customize your interior cargo and passenger space.

The SRT 392 adds another level of luxury and style to the cabin. The SRT comes standard with Nappa leather-faced seats that come with the SRT logo embroidered on the face and perforated suede inserts. The front row also features heated and ventilated seats that come with a 10-power adjustable system.
Entertainment Features
The Durango comes standard with an 8.4-inch touchscreen display. However, a 10.1-inch display is available on certain models. Both displays come equipped with Android Auto and Apple CarPlay. Here is also an available rear entertainment system that features two 9-inch monitors that are mounted to the back of the driver and front passenger's seat. The rear entertainment system comes equipped with a Blu-ray and DVD player as well as HDMI and RCA ports.

The SRT comes standard with the 10.1-inch touchscreen infotainment display. This display is the same display that you will find on other models, however, the SRT display does have a unique Performance Page menu that allows you to keep track of your acceleration times and horsepower.
Power and Performance
The 2022 Durango offers two powerful engines to choose from. The standard 3.6-litre V6 engine delivers 295 horsepower and 260 lb.-ft of torque. The available 5.7-litre Hemi V8 engine comes standard on the R/T and is available on the Citadel trim level. With this engine, the Durango can deliver up to 360 horsepower and 390 lb.-ft of torque.

The SRT also offers two powerful engine options to choose from. The SRT 392 comes standard with a 6.4-litre Hemi V8 engine that is paired to an electronic 8-speed automatic transmission and can deliver 475 horsepower and 470 lb.-ft of torque. The SRT Hellcat comes standard with the 6.2-litre Supercharged Hemi V8. This powerful engine is able to deliver an impressive 710 horsepower and 645 lb.-ft of torque.

No matter which trim level you choose, the 2022 Dodge Durango is a powerful and stunning vehicle. If you have any questions or would like to schedule a test drive, please feel free to contact us today.